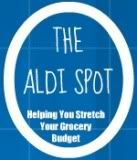 I would like to welcome everyone to The Aldi Spot. At the Aldi Spot you will be able to find out how to save on your weekly grocery budget by adding shopping at Aldi into your grocery shopping routine. You will also be able to find grocery price comparison lists, money-saving recipes to use your Aldi groceries, and you will soon find Aldi Shopper spotlights.
Whether or not you are an avid couponer, you will be able to find the prices on staples at Aldi lower than at many grocery stores, by combining your regular grocery shopping with a trip to Aldi. Since I started to keep a close eye on Aldi's prices compared to my regular shopping stops, I have been able to shave off $15 - $20 off my grocery budget every week.
You can too! So join me here at the Aldi Spot, follow via google friend connect, facebook and make sure to sign up for emails, so you will always be up to date on the latest Aldi news and prices.