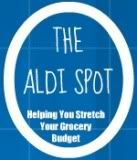 Yesterday I received a question from Frank, a new Aldi Spot reader. I wanted to share his question with all of you, since Frank is not the only one, who has asked me for advice on finding the best Aldi products
We have a new Aldi in our area and after visiting the store I'm confused and wondered if you could help me. Without name brand products and the history of purchasing these new Aldi brands, I don't know where to start in trying these store products. Can you recommend a couple of slam dunk products (taste, quality and price) that we can get started with other than eggs, milk and fruit. Thanks for your help.
I want to thank Frank for asking this question, as I know it is relevant to many new Aldi shoppers. I am still learning about the many Aldi products myself, and when I find something I like, I always try to share it with all of you.
Besides the produce, milk and eggs at Aldi, all of which I can highly recommend, my family has also found number of Aldi products, which we always return to, if the price cannot be beat by competitors after coupons and sales.

I can highly recommend:
Any of the Aldi chocolates
The Clancy's tortilla chips restaurant style $1.19
The Aldi Salsa $1.69
The Aldi oreos (Mercer chocolate waves) $1.49
The canned black beans $0.55
The frozen corn $0.65
The whole wheat bread 20 oz $1.19
The whole wheat mini bagels
The orange juice: Nature's Nectar from concentrate 64 oz, Not from concentrate 64 oz, and the orange juice in carafe.
The Aldi flour $1.49
The Aldi sugar $2.89


All of the above products have been tried by everyone in my family, and we go back to them again and again, as Aldi has the best price on these, unless I am able to find coupons and sales at other stores. All of the above mentioned products taste as good as or better than the national brands in my personal opinion.

The only Aldi product that we have tried, which I cannot recommend is the frozen chicken breast 48 oz. It seems that the chicken breast have been pumped up with water. The pieces are enormous when frozen, but as soon as the chicken is cooked it shrinks to about 1/4 of the original size, which to me is a sign of a big water content.

What is your favorite Aldi products?

If you have any questions, you can leave them right here in the comments, or you can email me at smartmomj @ gmail . com