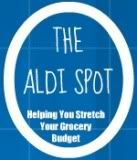 Frank's question about the
best Aldi products
made me realize that there are a lot of Aldi products that I have never tried, and there are probably many that I will never even get to try. I usually try out one or two new Aldi products each week, as my grocery budget is limited, and like most people I prefer to buy products that I already feel comfortable with.
So, I have realized that I need your help...
I would love to hear from all of you, and I hope you will share your favorite (and not so favorite) Aldi products in the comment field.
What is your favorite Aldi product?
Have you found an Aldi product that you did not like?
If anyone would like to share a product review with us here at the Aldi Spot, you can send me an email at smartmomj @ gmail . com (remove the spaces).
If you have done any Aldi product reviews on your blogs, you can also leave the link below.